An exhausted and jet-lagged dad had just walked in from a brutal week of working and traveling across the country. As he was unpacking, his son burst into his bedroom carrying a baseball bat and ball and excitedly announced, "Dad, you have to see what a great baseball player I am now!"
"All right, son," the dad replied. "Just let me change my clothes first."
"Ok, but hurry! You are not going to believe your eyes! I am the greatest baseball player in the world!"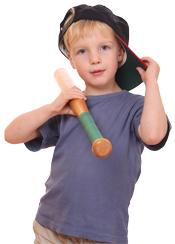 A few minutes later, the father followed his son into the backyard, where the little boy proceeded to rest the bat on his shoulder, throw the ball up in the air with his left hand, and then quickly grab the bat with both hands and swing as the ball came back down.
On his first attempt, the little boy completely missed the ball. Undaunted, he retrieved the ball, tossed it back up in the air, and swung again, missing. His dad was starting to get a little embarrassed for him and moved in to help.
"No, Dad!" his son said with a huge grin spread across his face. "One more time."
With a firm resolution he gripped the bat harder, tossed the ball up, and for the third time, swung the bat – and completely missed the ball.
His father's heart was breaking for his son when the little boy turned and excitedly pronounced, "Do you see what I mean?! I am a great pitcher! Unhittable!"
Sadly, rather than focusing on what we are good at and enjoying life, we tend to focus on our own weaknesses and shortcomings and that tends to drag us down. Choose to focus on your strengths and figure out how to do "those things" more often.